Surprisingly they need little upkeep.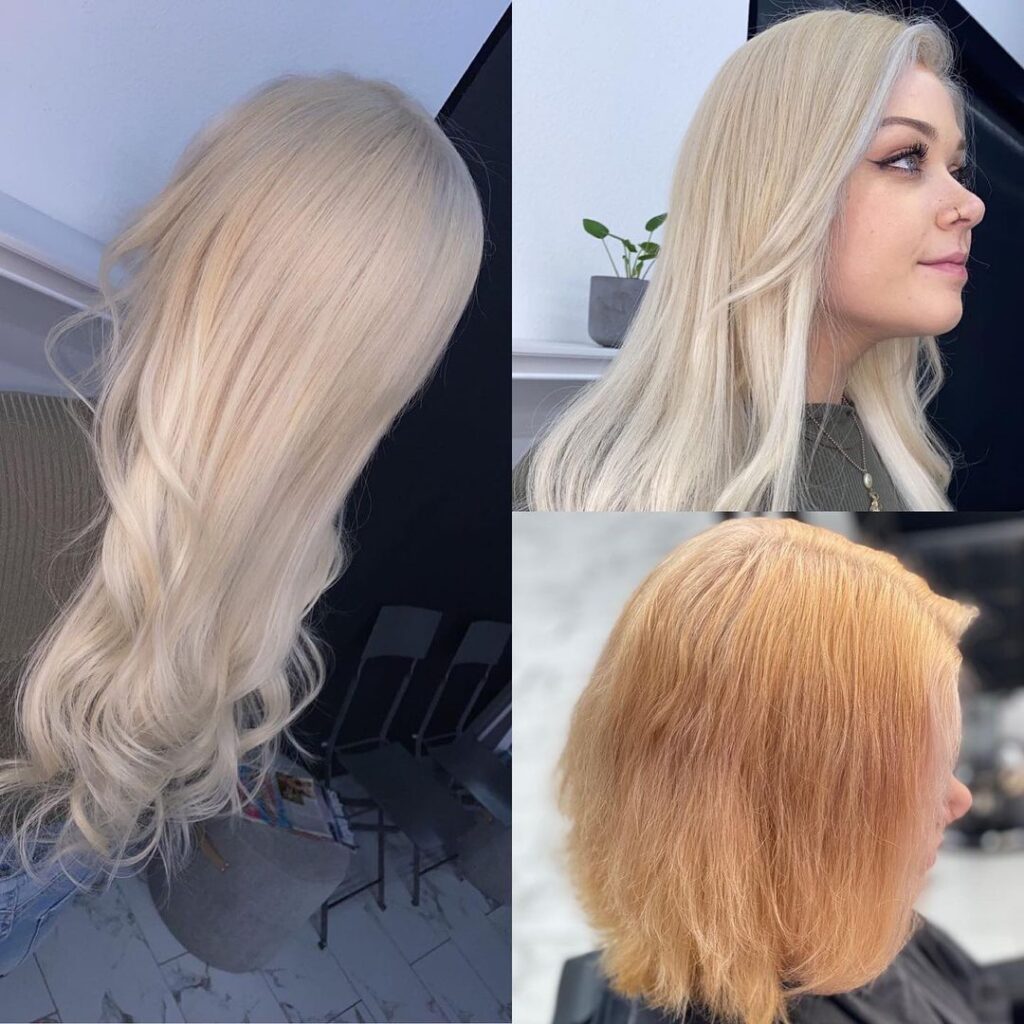 IN THIS ARTICLE
Despite having relatively long, thick hair, I've been missing the volume and luster that my hair used to have, which led me to try fusion hair extensions. And, as it turns out, fusions aren't exactly new—celebrity stylists have been using them for years. Are you interested in learning more? The same. That's why I turned to the pros and discovered two celebrity stylists who have been applying fusion hair extensions to our favorite stressed-out stars for decades. Please continue reading to learn more about fusion extensions and whether or not I decided to try them.
What Are Fusion Hair Extensions?
Fusion hair extensions are individual strands of extensions bonded to your hair with an adhesive or microbeads, according to Jamie Montano, celebrity hairstylist, colorist, and master stylist at Hottie Hair Salon in Las Vegas. They're usually made of unprocessed, natural human hair. Although fusion hair extensions may have just recently reached the public consciousness, they've been around for a very long time.
Professional extensions are strategically arranged in rows to ensure that your natural hair parts still cover them. (Yes, even though your hair is styled in a complicated updo or ponytail.)
Some salons will have samples on hand that the stylist will use for you the same day, depending on your color and texture; however, most salons will ask you to come in ahead of time so they can order the exact type of extension they'll need to fit your hair.
Traditional Hair Extensions vs. Fusion Extensions
Although there are several different types of hair extensions available, fusion hair extensions are the only ones that are truly permanent.
The other permanent hair extensions are silicone-based, which, according to Brian Wild, celebrity hairstylist, and expert at Hottie Hair Salon in Las Vegas, aren't perfect for your hair. Nevertheless, fusion hair extensions are now the go-to for red carpets and movie premieres—they're so popular, in reality, that you're probably unaware your favorite celebrity is wearing them.
Unlike temporary extensions, including tape-in extensions and clip-in extensions, fusion hair extensions can be air-dried, straightened, curled, and styled with heat, much like your own hair. In addition, because the extensions are fastened with bonds, you can stop making them tangle or "yanking" them. Other than that, they can be styled as usual.
What Are The Pros?
Fusion extensions are a common choice among celebrity hairstylists for a reason.
According to Montano, fusion hair extensions are the least bad option for your hair, and they're also low-maintenance. When done correctly, they look incredibly natural and are ideal for anyone who needs longer, thicker hair.
Brian Wild claims that fusion extensions will bring your hair back to life. If clients put their hair through the wringer or haven't achieved the look they want, fusion hair extensions work like magic.
You can make something this person could never have before, or you can restore their hair to the state it was in before they destroyed it, he says.
What Are The Cons?
Fusion hair extensions will, in some cases, make your hair worse than it was before.
According to Wild, fusion extensions can harm your hair, especially if you wear them for an extended period and never allow your hair to breathe and grow without the added weight of long extensions.
They usually last 3–5 months, depending on how well you take care of them. They can also begin to loosen or fall out, in which case you should have them tightened. According to Wild, they will last longer because the hair grows slowly, and you do less to it, so the extensions last longer. It would be best if you got them removed in a salon, where stylists will soak them with special solutions and tools; do not attempt this at home.
Tension alopecia, which occurs when the hair falls out due to the increased tension induced by the extensions, may happen in the worst-case scenario.
Who Is A Good Candidate?
Anyone can do it. Fusion hair extensions are suitable for all hair types because they can be ultra-personalized and tailored to fit your individual, unique texture. Of course, some people will want to avoid them—more on that later—but for the most part, they're fine.
According to Wild, extensions now come in a variety of textures to fit every wave pattern, which is why they appear so regular. You may need to add a few more strands to fit the surface of dense hair, while with more delicate hair, a little goes a long way because most people only want length and a little thickness.
However, Wild recommends that you have at least 4 inches of hair to work with to achieve them. They might not be suitable for you if you don't usually take care of your hair.
If you're harsh on your hair, Wild advises staying away. If your hair is damaged, the extensions will be damaged as well, causing further damage to your hair overall.
Even though they're low-maintenance, you always need to prevent them from being tangled, and matted, which is why having a special extension brush is always a good idea. However, you may want to rethink if it doesn't sound like something you want to commit.
Maintaining
You'll be very excited when you get your fusion hair extensions fitted, according to Montano, because fusions look the most natural, whether it's for length, thickness, or volume.
However, you might note that your head hurts a little after the application process. Some women experience scalp irritation, which is natural and usually occurs within the first few days after fusions are fitted. In addition, the extra hair and attachments on your head are causing some minor discomfort. As a result, it may seem strange at first. As a result, expect the first few days to be a little uncomfortable, mainly while sleeping. But don't worry, this will only be for a short time.
Care Before Sleeping
You should put your hair up before going to bed, according to Wilds. First, make pigtails or a high ponytail with your hair. That is the most relaxed way to sleep with fusion hair extensions and the easiest way to sleep with extensions without matting. Don't be concerned if you experience any discomfort when sleeping with fusions the first couple of nights. The symptoms will go away after the first shower, and you will become thoroughly used to them.
Washing
It's an entirely different experience to go from daily washing to washing your hair with a full head of fusion extensions.
First and foremost, Montano advises that you wash your hair standing up. Twisting down and flipping your hair upside down will make cleaning your hair more complicated and likely to tangle. Second, scrub your scalp where there are no attachments with a tiny amount of shampoo. After that, work the rest of the shampoo into your hair. Where the bonds are, you don't want to clean too hard. Your hair will get clean, so get in the habit of not scrubbing too hard. Finally, after rinsing the shampoo out. Smooth your perfect conditioner over your hair and thoroughly rinse it out.
Styling
You should expect it to take longer to dry and style your hair now that you have fusion extensions, says Wild. When using heat styling tools, be careful not to strike the bonds, as this can cause the keratin to heat up again and loosen.
Cost
Fusion extensions are among the highest-quality extensions available, but they are not inexpensive.
They will cost anywhere from $500 for a "half-head" of volume and fullness to $3,000 for a complete set of extensions, depending on your desired result. (And in some cases, much more.)
It all depends on what you're looking for, where you're going, and how thick your natural texture is.
Conclusion
Although there are some disadvantages, fusion hair extensions are an excellent way to add length, volume, and fullness to your hair that you wouldn't be able to achieve on your own. (Regardless of how many thickening and lengthening shampoos you purchase—believe me, I've tried them all.) In addition, they're relatively clean, gentle on your hair, and appear more natural than other styles of extensions.
Fusion extensions may be precisely what you're looking for if you've wanted to give your hair a boost—whether it's due to stress or boredom. Your red-carpet favorites would undoubtedly agree.
Categories: FUSION HAIR EXTENSIONS 101, HAIR EXTENSIONS 101