Foiled Highlights and Lowlights
Full highlights with foil are probably what your most familiar with. Foils separate hair that is to be highlighted from hair that will remain its natural color, while sealing the developer and lightener in the hair during the processing time. Let's dive into cost, maintenance, and compare full highlights to balayage and ombre.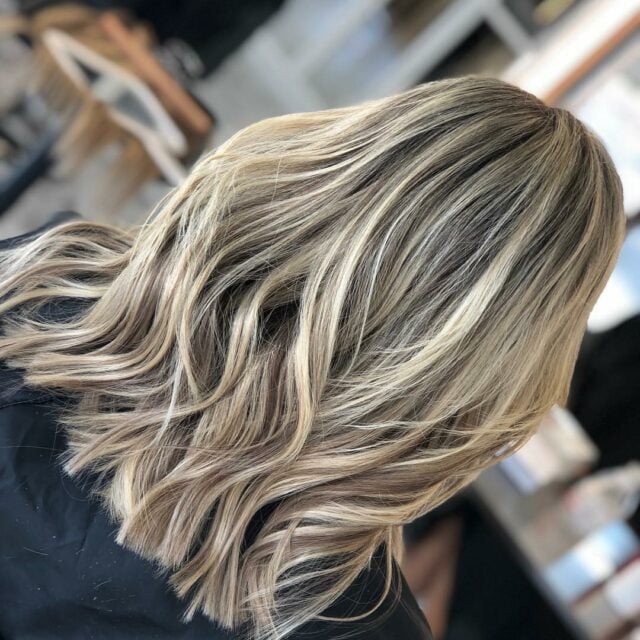 ARE YOU READY FOR YOUR TRANSFORMATION?
Add contrast with Highlights and Lowlights
Full highlights can create a dramatic, all-over color change. They can also be subtle dimensional highlights depending on your preferences.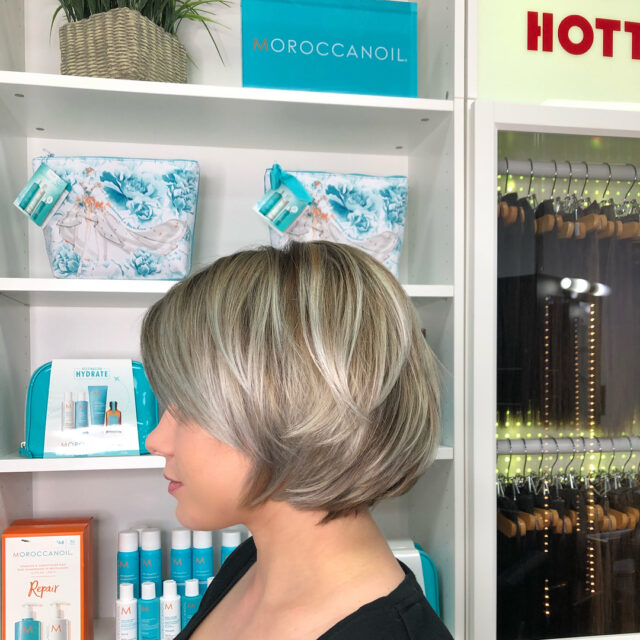 Lowlights Are Darker Than Your Natural Base Hair Color
Lowlights are, as expected, the opposite of highlights. Instead of lifting the color of the hair a few shades, stylists will use the same foil method to take strategically placed strands a few shades darker than the natural base color to achieve a softer, darker color.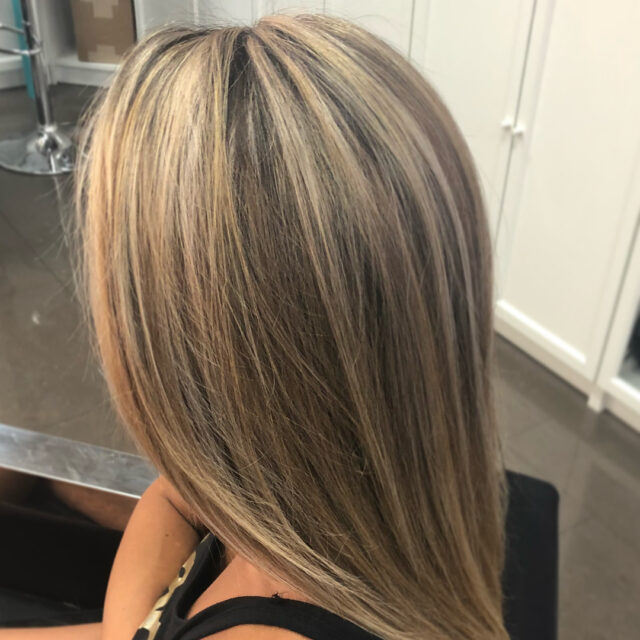 Full Highlights vs. Partial Highlights
Full highlights include lightened sections all over from the top of your head to the nape of your neck. This method can produce heavy and dramatic highlights or soft and subtle looks too.
Whereas full are your full head, partial highlights are half your head, typically applied to the top half and sometimes sides. Partial highlights are less expensive and time intensive. Often, partial highlights are used to create sunkissed-highlights and frame your face.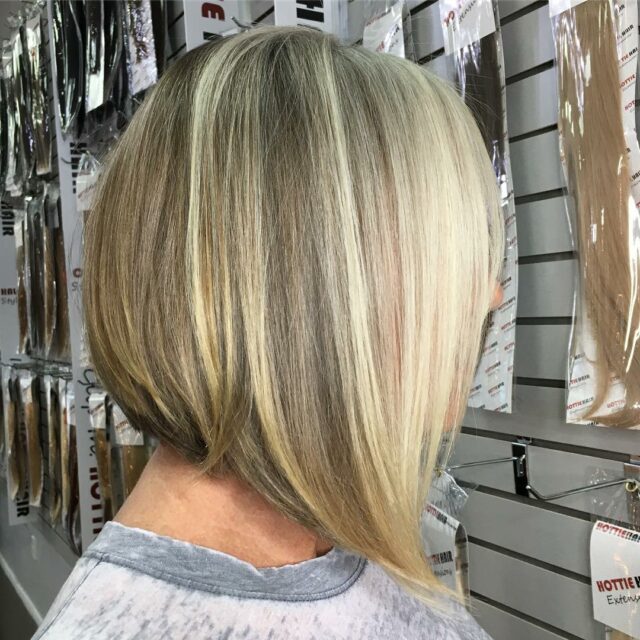 Not Sure What You Need?
It is common to do a partial highlight at one visit, and a full highlight on the next. However our experienced stylists will help guide you down the right path.
How Much Do Full Highlights Cost?
There are several factors that can have an effect on price. Let's break them down to a couple main factors. Service time and product costs. The main factors here are the length and thickness of your hair. Hair history also is a factor.
Lightening Process: The first process is most often completed with a professional bleach. Pricing is broken down by hair length for partial head single bleaching process.
Starting Full Highlights Base Price: Single Process
Hair Length, Thickness
Full Head
Very Short
$150
Short to Medium Length
$180
Thick Medium to Long
$210
Long Thick
$270
Toning Process: Whenever bleach is used, a toning process is required to create your desired color. A single toning process is $35-$60. More than one toning process may be required to achieve your desired color and may be required if you have long or thick hair.
Bleach Protection Additive: Whenever bleach is used to lighten your hair it is highly recommended to use a bleach protection additive. This will help tremendously in protecting the health of your hair. A single use additive is $35 for short to medium length hair. For long, thick hair or extensions additive can be $45+.
Hair History: If your hair has been dyed recently or has taken any damage recently this can affect the processes your hair needs as well as product needs to achieve your desired look.
Free Consultation: While the above information helps to demystify pricing, you can always schedule a free consultation to get an estimate of what it will cost to achieve your desired look.
Full Highlights Maintenance & Regrowth
You will want to visit your stylist every six to eight weeks for root touch ups. You may also want to explore the balayage method as it is designed to blend your darker roots with your highlights, allowing you to go longer before you need a touchup.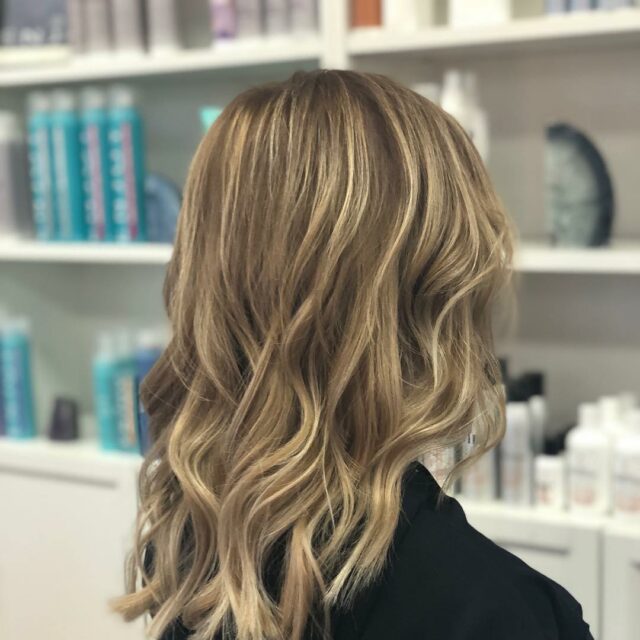 How Full Highlights Compare To Balayage
Balayage highlights give you that "lived in" look with the roots remaining deeper and the lightness slowly increasing down the hair strand, as if from the sun. The hair looks natural and soft, with little to no re-growth lines visible. This hair coloring technique is painted on the surface of your hair, with all over color at the roots if needed. Hair stylists use a freehand technique, painting in the highlights sometimes with or without foil, to make the hair color blend seamlessly. It takes an artistic eye, and should work with the haircut to enhance every shape. As your natural color grows in, the highlights create a flawless look as it grows out. Most clients in the last few years request this type of service.
Your Best Products for Full Highlights
Highlights are an investment. Color-treated hair does require extra hydration to keep healthy. Especially with the high upkeep of full highlights. Your stylist can recommend a specific product for you.
Specific Full Highlights Products We Recommend
Exact shampoo and conditioner recommendations depend on your hair type. For almost anyone, must have hydration products are Milbon Shampoo and Conditioners. Milbon has been around for 50 years and is the leading professional hair care company in Japan. They are expanding to the USA and we are one of the first shops to carry this amazing line.
Stylists Who Specialize In Full Highlights
ARE YOU READY FOR YOUR TRANSFORMATION?