Embrace the Luxuriousness of Hand-Tied Hair Extensions and Experience Unparalleled Comfort, Light Weight, and a More Naturally Beautiful Look Than Ever Before!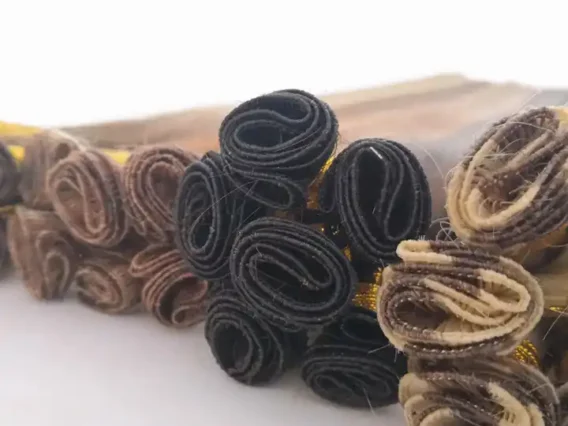 Hand-Tied Hair Extensions is the newest trend in hair extensions. They are made with 100% human hair and have a natural-looking finish, making them perfect for achieving long lasting and realistic results. Hand-tied extensions are installed by hand, using small sections of your own hair to create a seamless blend with the extensions. They are lightweight and low maintenance, so you can wear them for long periods of time without any discomfort. Hand-tied extensions are also reusable and can be installed multiple times.Continue readingHand-Tied Hair Extensions Las Vegas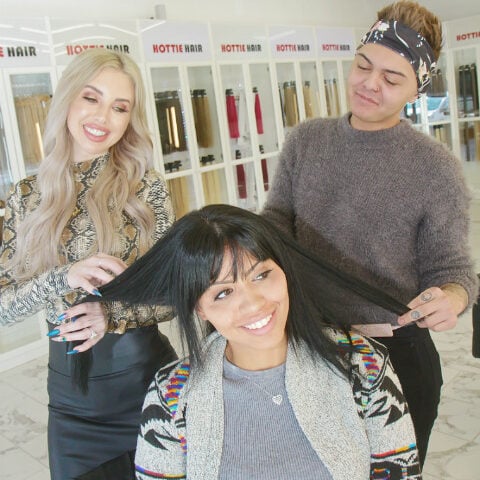 It is VIRTUALLY UNHEARD OF for a Salon to Stock ANY type of Hair Extensions!
But Hottie® Hair Is
NO ORDINARY SALON…
Hottie® Hair Is Your Complete Candy Store Of Hair Extensions!
---
See the Hottie® Hair transformations
Experience Hottie® Hair Extensions
Schedule Your Free Consultation Now!
---
Your Top Of The Line Experience At Hottie Hair Extensions.
A Personalized, Time-Effective & Upscale Experience With Supreme Quality.
STEP 1:
The Consultation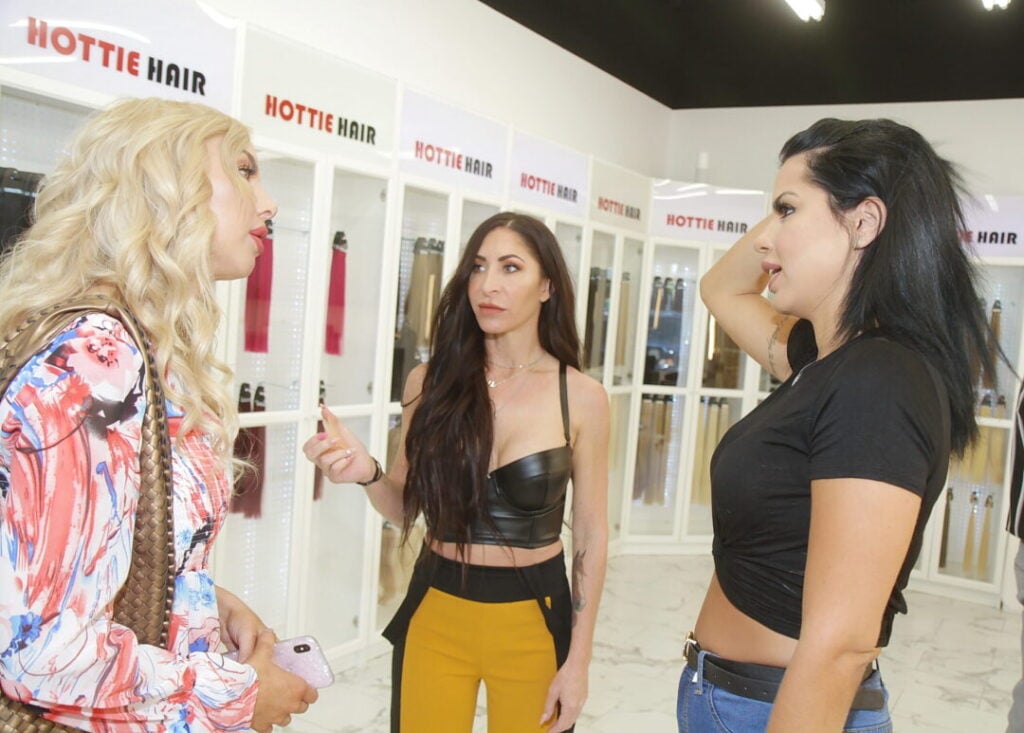 At Hottie® Hair extensions Las Vegas, our goal is to give the very best experience… Even our consultations are held at that same superior standard… Our experts care about your hair…and it will show! You will leave our salon looking and feeling your BEST self.
With a diverse team of all different personalities… we know that we can find you a stylist that will be your "perfect match." Our team is filled with passionate experts who will help you know what is best for you and your lifestyle.
The Hottie® Hair Extension experience is unlike any other… Stop in to either of our locations today to see why we are Las Vegas's very best and leading shop for hair extensions!
---
STEP 2:


Virgin Hand-Tied By Hottie® Hair Extensions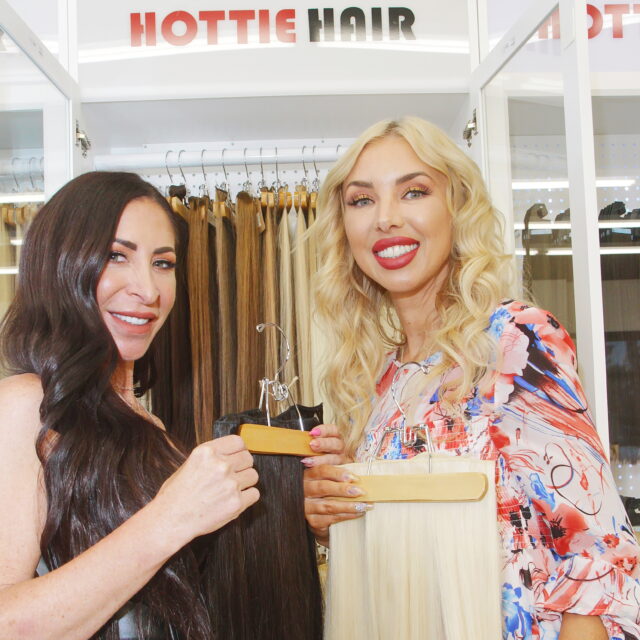 Hottie® Hair Extensions Las Vegas Virgin hair is the perfect weft for Hand-Tied extensions. Our Hair comes straight from Russia- so you can be sure it will be great quality hair. Our Hand-Tied weft method is great for clients that want a voluminous and full look- as the hair is hand tied to the weft, it has a seamless feel.
We offer 15+ colors and blends and as always our hair is 100% Virgin Remy. This means your hair will last longer without tangling and shedding over time.
As always- our hair is double drawn which means the hair will stay the same length and thickness from top to bottom. This keeps the hair looking thick and healthy all throughout the life of them… all while maintaining a beautiful blend!
---
STEP 3:
The Perfect, Seamless Color Blend
At Hottie® Hair Extensions Las Vegas, Our Virgin Hand-Tied weft extensions come in 15+ different colors and blends!
We can find a perfect color match for almost everyone. Of course there are instances where adjustments are recommended(such as with fashion colors); however, our talented staff specialize in coloring extensions as well as installing them. Our team is ready to give you the look you have always dreamed of!
Having stylists that specialize in color and extensions, means the end result is always SEAMLESS, BLENDED, PERFECTLY LONG AND GORGEOUS HAIR.
---
STEP 4:
The Install
Our hand-tied hair extensions are simple and pain free to install. Our wefts are perfectly measured to the width of your head and sew in to the natural hair.
We use a sew in technique for hand tied hair extensions. This process involves attaching small clusters of individual hair strands to a special weft, which is then sewn into the scalp. This method is considered one of the most secure ways to apply hair extensions.
Our stylists use clean sections and partings making sure your extensions are ALWAYS looking good- even when they've grown out.
Maintaining your hair health is our top priority!
---
STEP 5:
Your Red Carpet Look
We want your new hand-tied extensions to took red carpet ready ALL OF THE TIME– not just when you leave our salon!
Our Virgin Hand-Tied hair can be washed and styled with your natural hair…YES that includes hot tools!
Your stylist will find out what hair styles you love ahead of time and show you how you can get that desired look at home- without having to come to the salon every week!
We will show you how to style your hair to work with your lifestyle. All lifestyles are welcome!
---
STEP 6:
Maintaining Your New Look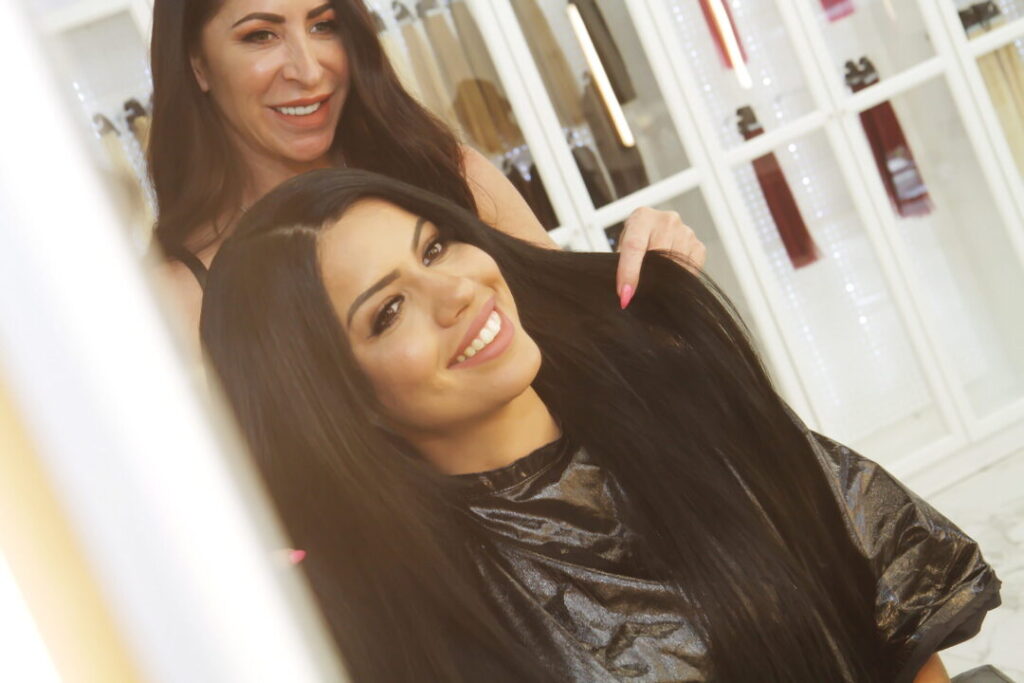 We know that hair extensions are an investment… and we want your investment in our Virgin Hand-Tied Wefts to be worth it.
We will go over the do's and don't of hand-tied extensions and show you how to protect your hair from potential damage.
We want you to have the best tools possible, so that is why we have created a Hottie® Hair Care Kit. Your stylist will show you exactly how to use everything ensuring your hair stays in the best shape in between appointments.
We keep in stock some of the best styling products on the market… guaranteed to strengthen your Virgin Hand-Tied extensions and give you the longest usage possible.
---
Experience The Magic of Hottie® Hair.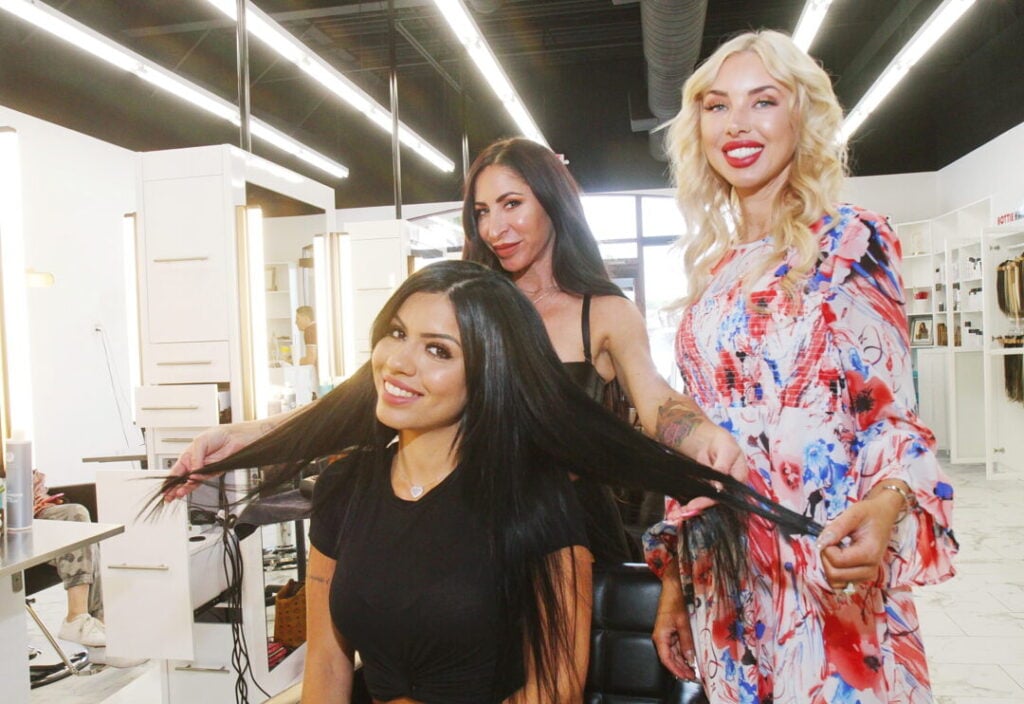 The result of Hottie® Hair simply is amazing and looks just as good IN-PERSON as it does in Before & After Photos.
That's why I wear Hottie® Hair myself every day, but also because I created it out of my own struggles to find a hair extension solution for my own fragile and thin hair that met my expectations on quality, appearance, and ease of care.
Take a look a look at this video where I explain in greater detail what makes Hottie® Hair Extensions Las Vegas different from other hair out there.
So, if you want to FINALLY Get the Natural Looking Hair You've Always Wanted: Call or Text to Book a Free Consultation to Experience Hottie® Hair at one of My Salons.
-CryStyle, Founder of the Hottie® Hair Salon & Extension Stores
---
Russian Hand-Tied Hair Extensions Las Vegas
UNPRECEDENTED LUXURY.
REAL RUSSIAN HAIR.
RAREST HAIR IN THE WORLD.
LASTS 1-2 YEARS.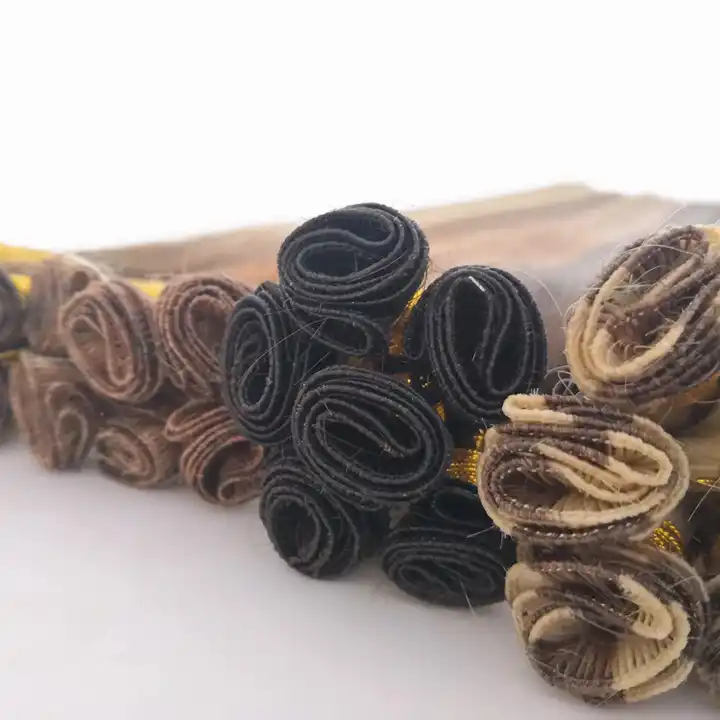 The best experience with your hair extensions comes from using the highest quality of hair.
That is why we are introducing our slow processed russian remy weft hair extensions.
As you may or may not know 99.9% of hair extensions start out as black hair.
This is because 84% of the world population has black hair, so this color is the most readily available.
How the hair is processed to change its color is vitally important and only the gentlest of processing will protect the hair for longer use.
This hair undergoes a 15-20 day extremely gentle slow processing to pull the black pigment out of the hair. This allows the hair cuticle to stay intact.
Giving you anywhere from 1-2 years of use depending on care.
Many will say their hair is remy but they will coat it in silicone so it feels soft to the touch.
It's not until after you start to wash the hair and this silicone begins to wash off that you are left with the actual real non remy damaged hair.
We know that you and your hair deserve the best so let's get you the hair that you have always dreamed of!
Actual REAL virgin hair, that is why Virgin Hottie Hair is made from the finest quality 100% actual REAL virgin double drawn (thick from top to bottom) real Russian human hair.
Our hand-tied hair extensions are extremely thin wefts that lay flat to your head and are extremely comfortable.
Perfect for all types of hair lengths and thicknesses.
The hand-tied hair is attached to your natural hair with a special technique, where the extensions are sewn in by hand for a discreet, secure hold.
This technique is popular because it's virtually undetectable and offers a natural-looking finish that blends seamlessly with your own hair.
You can curl, heat, straighten or wash them just like your own hair. Let's find your perfect color and length today!
---
Installing Professional Hair Extensions Is Truly a Customized Experience For Each Client…
TAPE IN. WEFT. I-TIP. FUSION. IN STOCK.
…This is Why At Hottie® Hair We Do Not Restrict You To Just One Installation Method.
We Offer You a VARIETY of Installation Methods to Accommodated YOUR HAIR & YOUR LIFESTYLE.
Click the Button Below to Learn EVEN MORE About Professional Hair Extensions & Your Options!