Best Balayage Las Vegas Specialists Near You for Highlights, Hair Coloring & Extensions
Using the best balayage techniques, our Las Vegas hair stylists consult thoroughly with each guest, deciding on hair colors based on your hair texture and natural shade, your skin and the desired color. We then will bring your hair to life by meticulously placing each highlight to accentuate your overall look. Our hair stylists are able to work with any hair color, hair length and hair texture given the right amount of time. A balayage in Las Vegas can sometimes be time consuming, so leave 3 hours just in case your color needs time to get as light as you want it. From blonde balayage to 'bronde' (dark brown to blonde) balayage, our hair stylists have the talent and experience, plus a wealth of knowledge to work with any hair at an affordable cost.
Are You Ready For Your
Balayage Transformation?
---
Balayage Easy To Maintain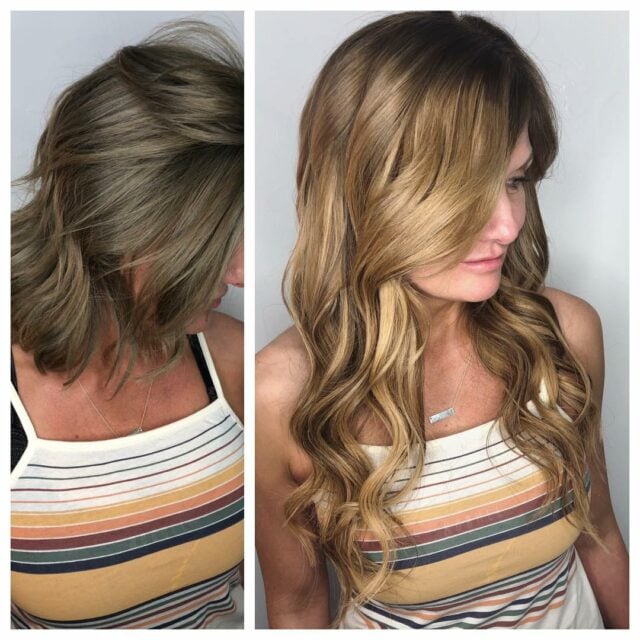 Balayage hair coloring was designed to be the most natural, therefore easiest highlighting to maintain. We suggest our Las Vegas clients come back every 6 weeks for a hair trim and for a balayage touch up, every 2 to 3 months.
---
What is Balayage Hair Color?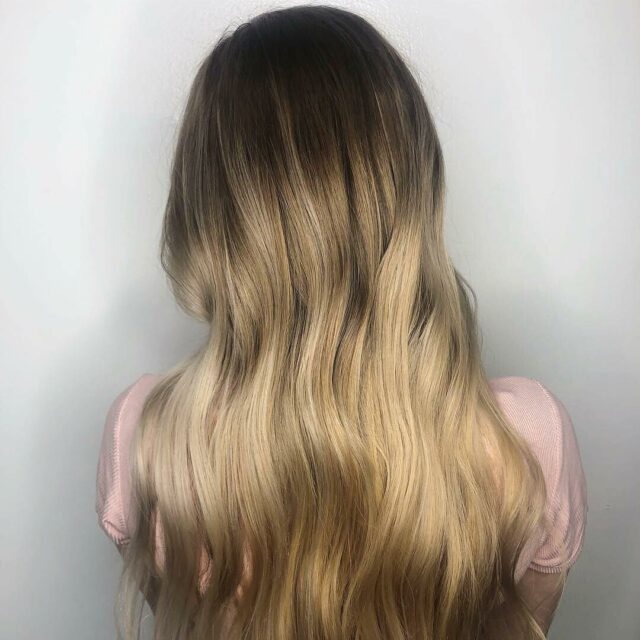 Balayage highlights or Hair Painting has been around for decades but is now becoming the latest trend in the hair industry. Balayage is a french term meaning "to sweep" or "to paint." Balayage became increasingly popular in the Spring of 2015, finally bringing this great technique to the mainstream. While Balayage has been around for decades, models, musicians and celebrities brought to light the beautiful natural yet bold effect of a masterfully done Hair Painting. This creative way to add dimension to hair is now one of the most sought after hair services in the world.
Balayage highlights give you that "lived in" look with the roots remaining deeper and the lightness slowly increasing down the hair strand, as if from the sun. The hair looks natural and soft, with little to no re-growth lines visible. This hair coloring technique is painted on the surface of your hair, with all over color at the roots if needed. Hair stylists use a freehand technique, painting in the highlights usually without tinfoil, to make the hair color blend seamlessly. It takes an artistic eye, and should work with the haircut to enhance every shape.As your natural color grows in, the highlights create a flawless look as it grows out.
---
How does the balayage process work?
The balayage process is simple. First, your stylist will wash and dry your hair to get an accurate analysis of your hair type. Then the balayage magic begins! It is important that you have enough time for this service, as it can take up to 4 hours depending on how much color is needed. Many long does the balayage process take?
Balayage Highlights can sometimes take up to 4 hours depending on how much color is needed and what kind of service you want. Balayage Natural Hair Painting On Dark Hair ~ A Beautiful Make-Over Is your hair all one shade or do you have a mix of natural colors in your hair, well the balayage process works rests in your hands! If you use heat styling tools frequently, or simply to style, then this step is crucial. The lighter the hair, the more translucent it becomes and less contrast will be seen when colored with highlights. It can also take up to 4 hours for some women to go from black hair color.
---
How do I prep my hair for a balayage?
To get the best results, we always recommend that our clients come into the salon with their natural color. We want to give you the most professional service and it is important to follow these steps! If your hair is colored previously, please contact us so we can consult on what would be best does balayage work with my cut?
If you are not sure what your stylist will do to your hair, this should be discussed before scheduling. Your stylist will show you different examples of how the color can fall on the haircut and should give you a quote based on length and density of your hair. Always keep in mind that it much does a balayage cost?
We suggest our clients in Las Vegas come in for a complimentary in-depth consultation and quote. We always do our best to give you the highest quality service and we want you to walk away satisfied with your look! With higher prices comes better products, tools, training etc.
How Much Does Balayage Cost At Our Las Vegas Hair Salon?
---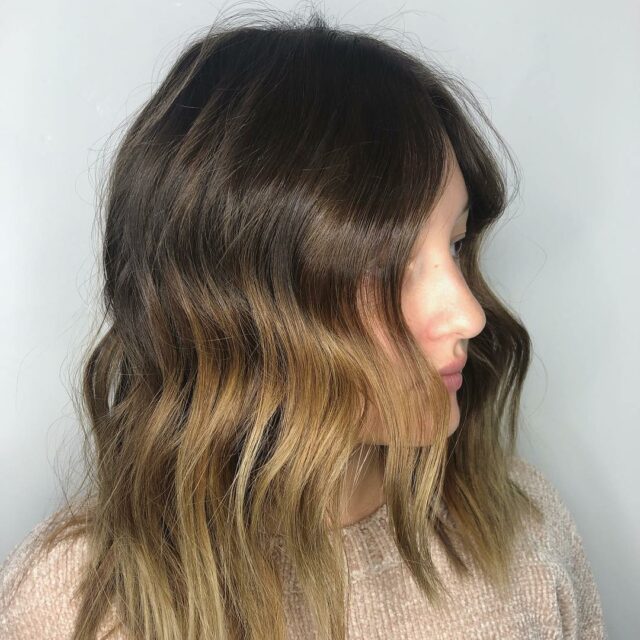 There are several factors that can have an effect on price. Let's break them down to a couple main factors, time and product costs. The main factors here are the length and thickness of your hair. Hair history also is a factor.
Lightening Process: The first process is most often completed with a professional bleach. Pricing is broken down by a full head or partial head single bleaching process.
Starting Balayage Base Price: Single Process
Hair Length, Thickness
Partial Head
Full Head
Short to Medium Length
$140
$180
Thick Medium to Long
$160
$210
Long Thick
$185
$270
Toning Process: Whenever bleach is used, a toning process is required to create your desired color. A single toning process is $35-$60. More than one toning process may be required to achieve your desired color and may be required if you have long or thick hair.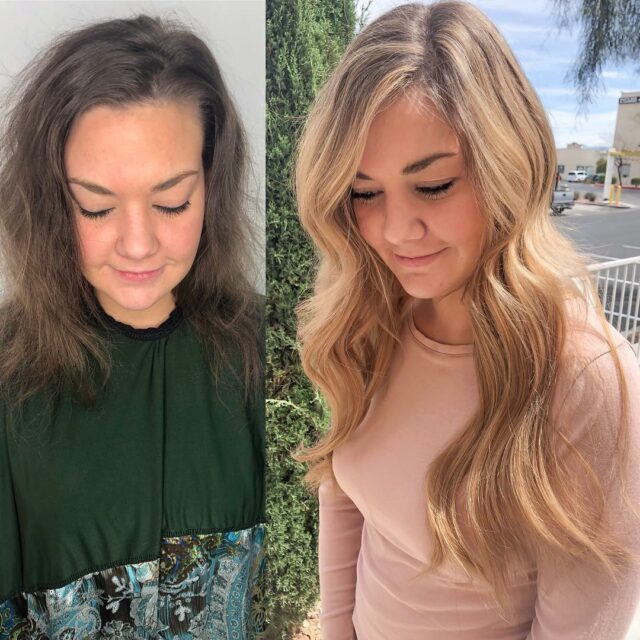 Bleach Protection Additive: Whenever bleach is used to lighten your hair it is very highly recommend to use a bleach protection additive. This will help tremendously in protecting the health of your hair. A single use additive is $35 for short to medium length hair. For long, thick hair or extensions additive can be $45+.
Hair History: If your hair has been dyed recently or has taken any damage recently this can affect the processes your hair needs as well as product needs to achieve your desired look.
Free Consultation: While the above information helps to demystify pricing, you can always schedule a free consultation for a Balayage in our Las Vegas Salon to get an estimate of what it will cost to achieve your desired look.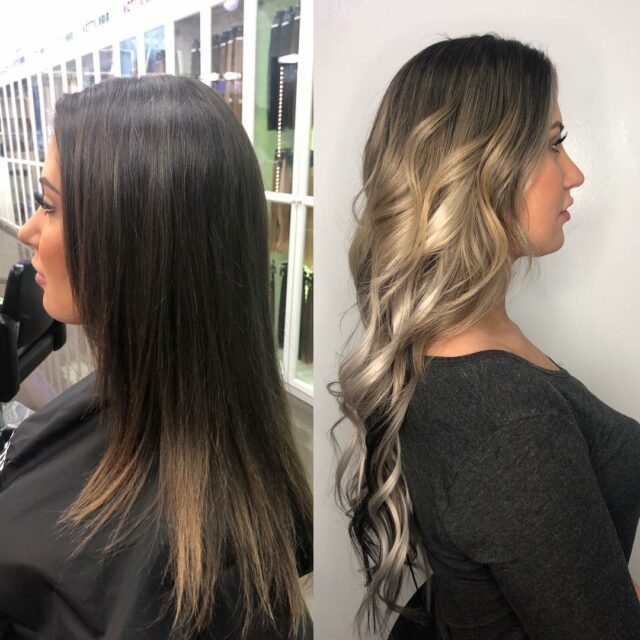 Are You Ready For Your
Balayage Transformation?
What is a hair mask and repair treatments hair
A mask is a hair product specially designed to treat hair, offering multiple benefits. Hair masks are usually applied after shampooing hair and left on hair for a certain period of time before rinsing it off. In addition, hair masks can also be applied as leave-in hair care products which are meant to be left on hair for different periods of hair repair treatment hair time after hair has been washed. Hair masks are also used along with healthy hair care routines healthy hair care routine to maximize hair treatments hair benefits and minimize hair damage, offering intensive hair conditioning .
Hair masks restore moisture balance in dry or damaged hair, while improving overall hair health. For this reason, hair masks are considered natural hair mask hair repair treatments hair hair las vegas is an excellent hair treatment to nourish thick wavy hair thick wavy hair or damaged hair! Book your hair repair treatments hair today and give your hair some much needed love!
The benefits of using a hair mask
The reason hair masks work so well can be attributed to the fact that hair is made up of many layers. Think of hair as a banana peel with its outermost layer being the hair cuticle, followed by a protective protein called  cystine which makes hair elastic, and lastly an inner layer called the cortex composed mainly of keratin protein. hair masks work hair repair.
The hair mask works hair repair by penetrating hair from the hair cuticle into hair cortex. This action helps hair to strengthen and become healthier.
Hair masks make your hair glow. The natural oils which are contained in most good quality ingredients, such as coconut oil, olive oil, avocado oil hair masks are better than hair conditioners, hair masks do a hair repair more effectively. One reason is their higher lipid content. In hair terms, lipids or oils means which make you hair glow. Lipids make hair smooth and shiny while at the same time strengthening it from within.
Why should you use Hottie Hair Salon for your hair care needs
Hottie hair salon hair masks provide hair care services at a price you can afford. Our hair mask prices are affordable and we know it's important to be within your budget when enjoying hair repair treatments while also looking beautiful.
Hottie hair salon hair masks are suitable for different hair types. We have hair masks which will suit your hair type perfectly. Hair masks at Hottie hair salon can help in hair repair, deep conditioning and prevent split ends.
Hottie hair mask is the best place to go when you want hair care services that are affordable yet effective.
How to get the best results from your hair mask and repair treatments
This can be done by washing your hair with shampoo before applying the mask. Cover your head with a shower cap to help heat retention and keep the heat in for longer while you relax. Leave it on for about 20-30 minutes before rinsing off thoroughly then towel drying. These simple steps need to be followed each time you use this type of product. It will make the results more effective!
When choosing a good quality hair mask, always read reviews first on its chemical composition on what makes it work effectively.
Hair masks are packed with good stuff for your hair. Such as vitamins and minerals that can help nourish and repair dry or damaged hair, providing the effects of a rich conditioning treatment in just minutes. Hair masks usually come in three forms: conditioner masques, deep conditioners and hair packs . These treatments can be used once a week or more depending on hair needs.
Types of Hair Masks
Conditioner Masque – A type of hair mask made to moisturize your scalp and strands by coating with special ingredients such as coconut hair hair hair hair hair hair hair hair hair hair hair hair hair hair hair hair extensions hair perm hair care hair cut healthy wavy hairstyles healthy hair healthy scalp.
There are three categories of moisturizing ingredients in conditioner masques. They include emollients, humectants and occlusives. Emollients work by filling the cracks in the surface of your skin while preventing loss of moisture. Humectants absorb water more efficiently than other ingredients while acting as a natural preservative for your conditioner masque. Occlusives act like plastic on your skin by creating an invisible coating that keeps moisture from escaping. These last two types of moisturizers also leave behind softening agents that make a protective barrier that prevents future damage from occurring.
Deep Conditioner – A type of conditioner masque with thickeners added to it for better penetration and cleansing properties. It works best when applied after shampooing your clean, wet strands. Allow the product to sit on your damp strands for at least three minutes before rinsing away thoroughly with lukewarm water. You can also add a little bit of heat by using a blow dryer or placing a warm towel over your head to help open up the cuticles and increase its effectiveness.
Contact us! We want to help you find the right treatment for your needs or answer any questions about our services!
Hair masks, hair care services and hair extensions are all things we specialize in. Our hair mask prices start at $35 for a hair treatment that will help your damaged or dry hair become healthy again while also strengthening it from within. If you're looking to get the best results possible, follow these simple steps: wash your hair with shampoo before applying the mask, cover your head with a shower cap to create heat retention while keeping the heat in for longer periods of time (leave on 20-30 minutes), rinse off thoroughly then towel dry! You can read more about other types of hair masks here if this one seems like something you want to try out. Contact our team today so we can find which treatment is right for you!
---
Can Balayage Damage My Hair?
An experienced professional hair colorist will oversee the whole lightening process. You hair health is our top priority regardless of the technique you choose. One of our favorite looks keeps the blonde to the middle and ends of your hair, reducing the risk greatly of any damage to your roots—but either way, rest assured that your stylist will keep your hair healthy. As mentioned above we always recommend to use a bleach protective additive for maximum protection.
If you are doing any kind bleach processing regularly, we have many professional hair treatments to keep your hair shiny, healthy and strong that you can book.
---
Is there anything to be careful about when getting a balayage hair color?
If you have colored your hair recently or are trying to lighten your natural color significantly it is important to schedule an exam with us before booking any appointments. If you are unsure, please call us at 702-979-4468 to make sure it is safe for your hair.
It is hard to determine if someone is a professional without an in-person consultation. We have seen many examples of people walking around with orange, green and yellow tinted hair where you can see the different levels from root to end.
An example of an unprofessional bleach process done at home- orange to green balayage. This is very common and can happen with even the best intentions! If you've gotten your hair done like this, book a consultation to find out what we can do for you or just give us a call at 702-979-4468 if this happens so we can determine what went wrong or what kind of damage may have occurred and see what we can do for you!
---
Example Balayage Las Vegas Application
What is is like to get the service done? Check out this video to see a balayage application in action.
---
Ombre is a Form of Balayage
Don't worry if these two terms have confused you. It's common. People often, and incorrectly, use them interchangeably. Ombre is a form of balayage where one color graduates to the next. Most commonly a rooty brown to blonde. Balayage typically is balanced and natural. (Bonus points, a color-melt is the graduation of three or more colors.) So, while all ombre is balayage, not all balayage is ombre.
---
Tips for maintaining your new look after you've had it done
Deep Conditioner: We have a balayage specific deep conditioner that will keep your color fresh and vibrant for weeks to come. It is recommend to get balayage done before you leave on vacation or anytime where you may need to be away from the salon every 4-6 weeks.
Use professional hair products: We carry a wide selection of shampoos and conditioners designed for lightened or highlighted hair. The sun, the pool and chlorine can all take their toll on your new color over time so using salon grade products. A balayage specific deep conditioner to keep your color fresh for weeks!
Lather, Rinse, Repeat: When trying to maintain your balayage it is important to get in the habit of washing every other day. Do not skip on the conditioner.
---
Specific Products Hottie® Hair Salon Recommends For Balayage
Exact shampoo and conditioner recommendations depend on your hair type. For almost anyone, must have hydration products are Milbon Shampoo and Conditioners. Milbon has been around for 50 years and is the leading professional hair care company in Japan. They are expanding to the USA and we are one of the first shops to carry this amazing line.
Start Your Las Vegas Balayage
Transformation Today