Transform Your Hair With Invisible Extensions.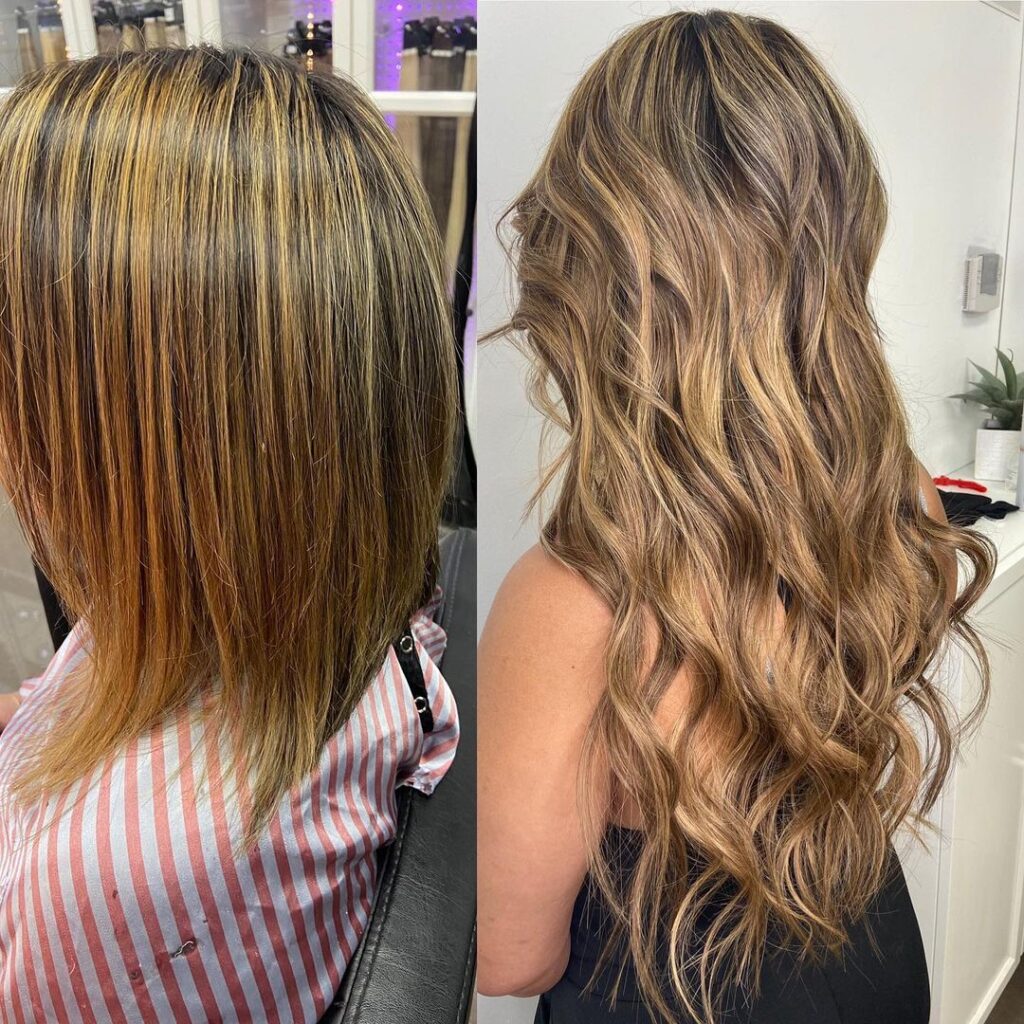 IN THIS ARTICLE
Micro links may be one of the most incredible hair extension solutions available. Still, there are a few things to consider before investing in these extensions, including the benefits and drawbacks.
What Are Micro Link Extensions?
Micro Links are a type of hair extension in which a small silicone bead is used to bind the extension to the hair strands. Because a micro strand of hair is pulled through a micro-sized bead, a strand of hair extension is applied to the microbead, and the bead is then clamped shut to secure the hair in place. Thus, the process is termed Micro Links. Hairdressers commonly use individual sections of hair. However, a track of hair can also be employed. The extensions can last anywhere from 10 to 12 weeks, depending on how well they are cared for and maintained. The entire process is relatively easy, and the result can be a more natural-looking extension. There is no braiding, no bulk, and it is removed safely. Micro Rings, Micro Beads, and I-Tips are all terms for the same thing.
Overview
Micro Link hair extensions are an alternative to sew-ins, keratin, and glue installations for women considering wearing hair extensions. Wearing these extensions opens up the door to beautiful hair that is colorful, abundant, and adaptable. In addition, there are various techniques to add hair extensions to your natural hair. Still, micro beading is a new approach to add length without the mess or fuss of heat or other harsh chemicals, which can be a turn-off in some cases.
Many people consider micro-links to be the ideal hair extension style for them, from superstars to blushing brides. So let's take a deeper look at micro Link hair extensions and what you need to know about them.
Micro link extensions comprise the strand-by-strand application of individual hair extensions to your hair utilizing little metallic loops attached to the hair extension. A variety knows this procedure of names. This method, also known as micro linking, micro looping, I tip, or I link, necessitates the expertise of a specialist or stylist, such as a stylist from Hottie Hair Salon. A micro link installation specialist can loop a hair extension around a strand of your natural hair and fasten it with a clamp using pliers.
Best Candidates
Hair texture and health indicate who is the most significant candidate for micro link extensions. Medium to fine hair textures is best suited for these extensions. Because the bead is small, it is easily lost or tangled in thick or dense hair textures. The final selection is also influenced by whether you want your hair to be thermally conditioned (flat ironed) or natural. The beauty of these add-ons is that they may be used in a variety of ways.
If your hair's health is in jeopardy (weak, damaged, breakage, shedding), I would not recommend this extension treatment.
Finding a Hairstylist
Install
Let's face it: getting to perfection and beauty is rarely a five-minute journey. The installation of Micro Link hair extensions is not an exception. Micro Link hair extensions can take anywhere from two to three hours to apply by a competent hairdresser. It's spirited to keep in mind that the time it takes to place these extensions varies greatly depending on how much hair you're using. You can choose to have a full head of micro links installed or only have a section of your hair installed.
Cost
The cost of Micro Links hair extensions varies depending on the stylist performing the treatment and the amount of work required to obtain your desired result. The price might range from $500 to $1000 or more (based on location). Additional services, such as hair coloring and cutting, can raise the price. It's best to schedule an in-person session so that the stylist can examine and feel your hair to see if you're a good fit. You may choose to discuss your aims, requirements, and desires during the consultation while getting to know the stylist. More so if this is a new visit.
How Long Do They Last?
Micro Link hair extensions can last up to five or six months if installed and cared for properly. The key to this style's longevity is staying in touch with your Hottie Hair Extension Stylist, who can first provide the best possible installation and be available for any future hair care needs. An excellent micro Link hair extension stylist has the expertise, skills, and aptitude to install your micro bead hair in a style that looks natural, high-quality, and sophisticated.
Micro Link Hair Extensions Benefits Hair Extensions Before and After Micro Link hair extensions, such as Hottie Hair Extensions, provide a wide range of benefits for people who choose to wear them, in addition to adding volume, length, and diversity to hairstyle procedures.

Micro beading is safe for those who take this approach if it is applied or removed correctly. In addition, with proper and frequent maintenance, they are one of the least hair-damaging options for hair extension implantation.
When it comes to upkeep, the second advantage of wearing micro Link extensions is their low-maintenance nature. While your hairdresser would advise you to schedule regular appointments for continuing care and "simple" repairs, micro Link hair extensions do not require much upkeep and can be cost-effective on occasion. For example, if they slip, they can be readjusted without reapplying with adhesive or heat to restore them.
Micro Link hair extensions mix seamlessly with your natural hair, giving for a wide range of styling possibilities.
Some Drawbacks
While there are numerous advantages to wearing micro Link extensions, there are a few drawbacks to consider before proceeding with the insertion process. The potential of injury to the hair or scalp that can occur with poor installation is perhaps the most significant disadvantage of wearing micro Link hair extensions. Therefore, make sure you're getting your hair done by someone who has experience installing extensions.
Shoddy installation may cause pain.
Your micro link hair extensions may be painful if they are not installed correctly. This assertion is particularly true if hair extensions are installed too close to the scalp. Setting extensions too close to the scalp can create irritation and pain for the first three weeks, making individuals who are wearing them unhappy.
While the convenience of changing your style with hair extensions quickly is appealing, the negative is that the removal process is inconvenient. That annoyance will include a trip to the salon to visit your micro Link hair extensions stylist. It would be paramount if you never tried to remove your own micro link hair extensions since you risk pulling out your natural hair, which would be pretty unpleasant.
To prevent falling into any of these traps, you should seek the help of a professional who is acquainted with the micro beading hair installation process and contact your stylist if you have any pain from your micro Link hair extensions. A professional stylist will pay attention to the problem. To avoid damaging your natural hair during the removal process, make an appointment with your hairdresser for micro link removal.
Maintaining
Taking care of your micro Link hair extensions necessitates consistency as well as some professional assistance. To put it simply, you'll need to see your micro-beading hair extension hairdresser every two to four months at the absolute least for maintenance and lifespan. A stylist knows how important it is to change components that may change over time to maintain your style.
Failure to maintain frequent appointments to the hairdresser may result in hair damage, extension slippage, and much frustration. Ascertain that your stylist is well-versed in the care of micro Link extensions. Anything less could be harmful to your hair.
Hair Care products should be used with caution. Some items can induce slippage due to lubrication that isn't solely oil-based.
Combing and Brushing
Keep in mind that your hair extensions may appear beautiful and natural, but they are still your natural hair. It would be best to exercise caution when manipulating your hair daily. You don't have to wear child gloves. Still, excessive manipulation from heavy-handed combing and brushing procedures can cause beads to slide or, in the worst-case scenario, cause your extensions to come out prematurely. On those tresses, several professionals advise using a nylon boar bristle brush or a loop brush. To avoid tangling, you must separate those strands at the roots throughout your hair brushing routine.
Washing
How often should your extensions be washed? It is suggested that you strive to keep the frequency of cleaning or wetting this hair to a minimum. Finally, you want to prolong the life of this hair, which is possible if you don't subject your extensions to the rigors of the hair washing process too frequently. However, there will come a moment when you will need to wash your hair. If you prefer to wash your hair, there is one rule to follow, and it has to do with the direction in which you apply and rinse your shampoos and conditioners.
When washing your micro link extensions, the key is to act with prudence and a sense of purpose. This is not to suggest that the procedure is without risk; nevertheless, it is essential to realize that while your extensions appear to be growing from the root, they are not. Therefore, to avoid creating damage or unintended loosening of those tresses, you should use a specific approach for washing your hair. Before beginning the hair washing process, comb or brush your hair to remove any tangles.
Rinse and wash your hair in the direction of growth once you're in the shower. To avoid tangles, wash your hair from top to bottom in a downward manner. Avoid rubbing your head in a circular motion or in a way that frizzes or twists your hair. Also, flipping your head upside down to wash your hair is not a good idea because it may cause snarls.
Scalp care is essential, and you'll want to clean your scalp as well. However, be careful not to disturb those beads or bonds when you wipe your scalp. Instead of intensively cleaning, consider massaging your scalp.
Avoid shampoos containing parabens, silicone, or many proteins. The improper shampoo can cause your hair extensions to deteriorate and fall out.
When conditioning your hair, make sure to apply conditioner to the strands, not the beads and bonds. First, apply conditioner to your hair from the mid-lengths to the ends. Then, for every other wash, start a deep conditioning routine. Your extensions' lifespan will be extended as a result of this action.
Take the time to discuss the best shampoos and conditioners for your micro Link extensions with your hairdresser.
During the initial stages of the hair drying process, try to avoid wrapping the towel around your hair because this might generate knots or snarls. Instead, gently squeeze your strands to help release excess water before gently patting the micro link hair extensions dry. Letting your hair air dry should be your goal before using a blow dryer to speed up the process. To avoid matting and tangles, make sure your hair is completely dry before going to bed.
After Care
Micro Link hair extensions fit in perfectly with your natural hair. Still, if you want to spice things up by coloring your hair, the good news is that you can do it with micro link extensions as well. The trick is to buy hair that can be colored.
Is it necessary to put heat on your micro link extensions? It's a reasonable question. Due to the risk of hair damage, you should use heat on your hair extensions as little as possible. Follow the typical approach for protecting your natural hair from heat damage if you decide to use heat on your extensions. To avoid damaging the hair structure, use a thermal or heat protectant spray.
Also, if the beads come into contact with the heat of colored irons or wands, they can melt. As a result, you must take care to keep the heat away from the beads!
Sleeping
Did you realize that you should put those micro link extensions on a sleeping schedule? Your goal should be to keep those tresses safe from knots, snagging, and pulling as you sleep. Using a silk pillow case, satin hat, or putting your hair in a protective style like a loose side braid or plait can help to reduce the likelihood of tangling in the morning.
Conclusion
These are just a few things to be aware of when it comes to micro Link hair extensions. So take some time to modify your mood and your appearance with this hair installation procedure!
Categories: Wedding Hair Extensions, I-Tip Hair Extensions 101, REMY HAIR EXTENSIONS 101, HAIR EXTENSIONS 101