VIRGIN Tape In! HOTTIE® HAIR EXTENSIONS
WELCOME TO THE RAREST HAIR IN THE WORLD.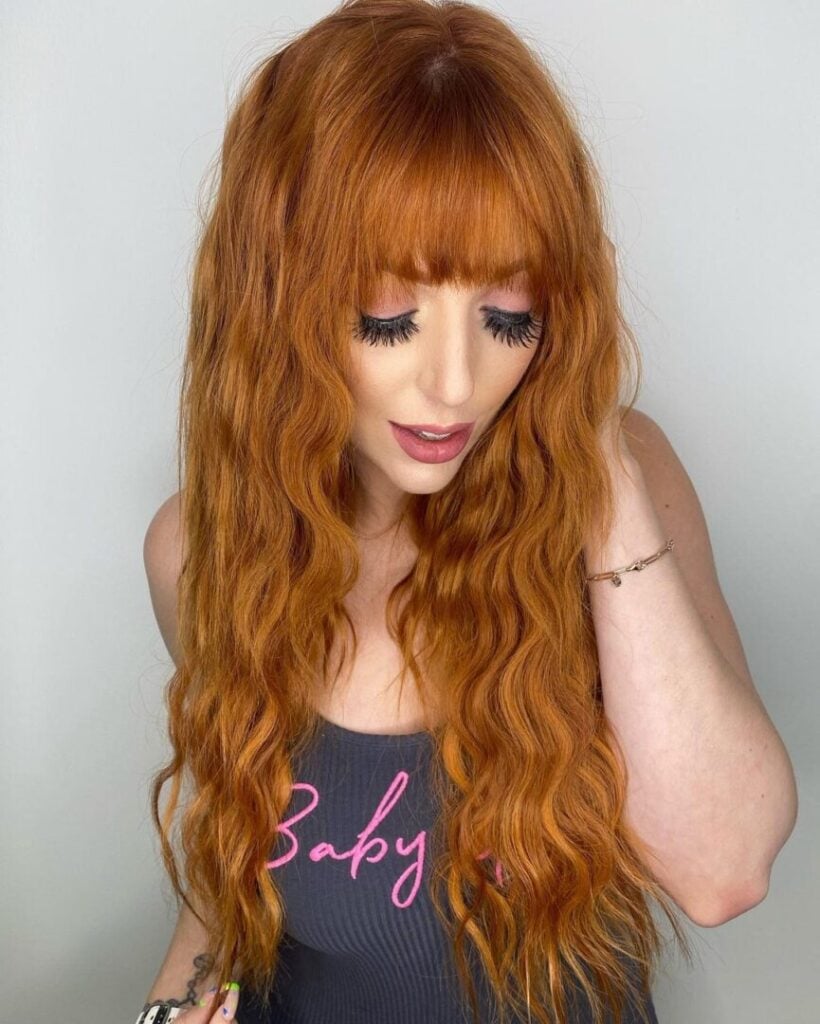 ---
CHOOSE YOUR COLOR
---
WHY CHOOSE TAPE IN EXTENSIONS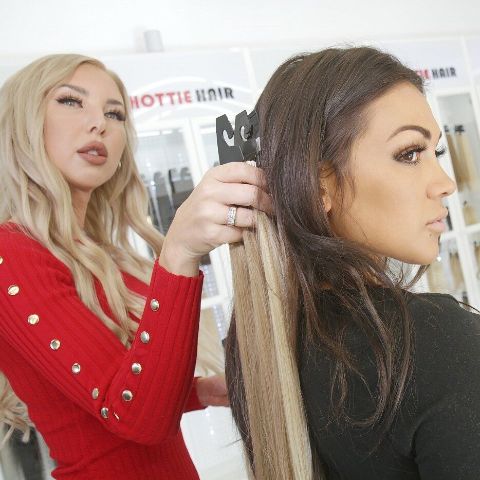 TAPE INS ARE EXTREMELY COMFORTABLE & LIGHTWEIGHT
NATURAL LOOK AND FEEL
QUICK 1 HOUR INSTALLS
NO HEAT OR GLUE INVOLVED IN APPLICATION PROCESS
LOW MAINTENANCE
SALON CARE EVERY 6-12 WEEKS
REUSABILITY 6-9 MONTHS
CAN BE WASHED, STYLED & TREATED JUST LIKE YOUR OWN NATURAL HAIR
---
WHY RUSSIAN VIRGIN HAIR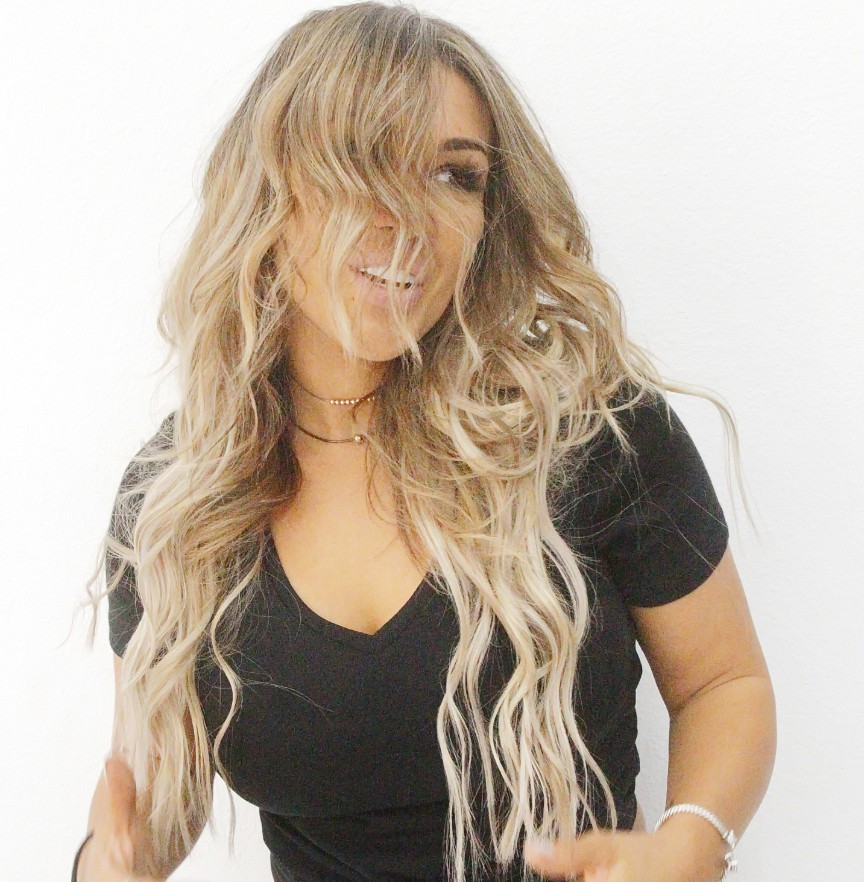 IT HAS A NATURAL, GLOSSY APPEARANCE
HIGH-QUALITY HAIR WITH STRONG CUTICLE LAYERS
NATURALLY FULL BUNDLES THAT ARE EASY TO MANAGE AND STYLE
HAIR IS EASY TO DYE OR BLEACH WITHOUT DAMAGE
THE HAIR DOESN'T TANGLE OR MAT EASILY
LASTS FOR UP TO 24 MONTHS WITH PROPER CARE
CHEMICAL FREE, UNPROCESSED HUMAN HAIR
ALL CUTICLES RUN IN THE SAME DIRECTION ON EACH BUNDLE
SOFT TEXTURE AND NATURAL BOUNCE
NATURAL THICKNESS FROM ROOT TO TIP
---
HOW MANY BUNDLES OF TAPE IN HAIR DO I NEED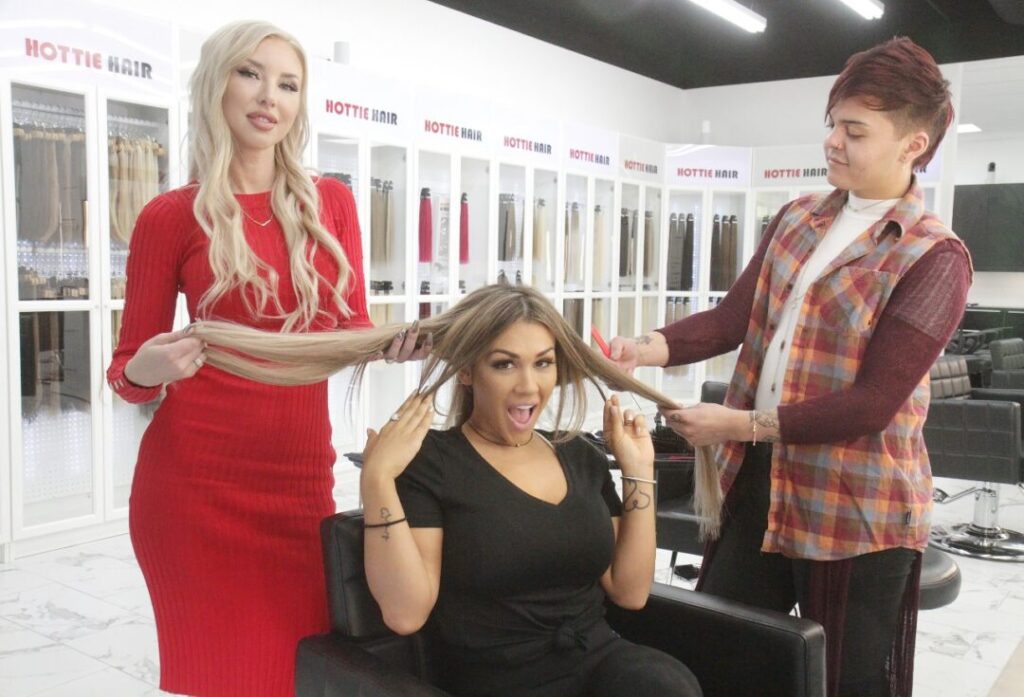 EACH BUNDLE COMES IN 10 PIECES

1-2 BUNDLES PERFECT FOR ADDING HIGHLIGHTS OR VOLUME TO LONG HAIR
2-3 BUNDLES PERFECT FOR ADDING VOLUME & LENGTH TO SHOULDER+ LENGTH HAIR.
4-6 BUNDLES FOR SHORT HAIR
6-8 FOR MAX VOLUME

STOCKED IN 18″ & 22″ LENGTHS
---
WHAT YOU SHOULD KNOW BEFORE BUYING HAIR EXTENSIONS
CryStyle explains what to look for before making a purchase. Learn about quality and more in this helpful video.
---
Frequently Asked Questions:
Tape In Hair Extensions
You have decided your hair is ready for a new look. A makeover with extensions is in order. Going for longer, thicker hair is an exciting low commitment way to achieve a fresh new look. When it comes to hair extensions your options know no limits. From custom color like Balayage to fun colors and cuts. Extensions will compliment your new look and make you feel like a brand new you. As you can already tell at Hottie® Hair we love love love gorgeous hair and extensions are the icing on the cake. Passionate may be an understatement because for us we eat, breath and sleep beauty and fashion and firmly believe that your hair is more than hair, it is your statement piece.
When it comes to choosing your method of hair extensions you are probably familiar with the do it yourself types like Clip-Ins (the #1 DIY method), Halos (the #2 DIY method) or Ponytails. When it comes to the world of professionally installed methods the list of options is a bit larger and most likely a bit less familiar. Lucky for you we have tried them all. We manufacture most of the methods and we can attest from many years of experience that Tape In Hair Extensions are on your radar for a reason. In the past decade or so they have taken the industry by storm and have risen to the very top, to take the #1 spot for the professionally installed permanent hair extensions category. We will discuss the other options below and what makes Tape Ins different and an exciting choice for you to experience. We will talk about cost and what it is like to wear and care for them.
Read on and we will show you how this industry leading extension method is changing lives and how it can change yours too.
Get Ready To Learn Everything You Need To Know About Tape In Hair Extensions As We Discuss:
What Tape Hair Extensions are exactly?
How Tape-In Hair Extensions work?
How Tape-Ins differ from other types of hair extensions?
How To Take Care of Them?
How are they installed? What is wearing them like?
What is the best brands to try?
What are Tape In Hair Extensions?
Tape In extensions are the newest hair extension method on the market. Tape In Hair extensions are thin tape wefts, generally 1.5 inch wide pre-taped hair wefts, that get "taped-in" in between your own hair in "sandwich" like bonds.  It is the most requested professional hair extension method in salons worldwide. This method is 100% natural, requires no tools or chemicals, and lasts up to three months-and the hair is reusable! It takes less than an hour to apply an entire head with zero damage.

Let's jump into some of the amazing benefits of wearing them. They are by far the most comfortable hair extensions ever. No, seriously. They look incredibly natural and lay perfectly slim and flat against your head. That is saying a lot if you have any experience with other methods like Clip Ins or traditional individual permanent hair extensions. This really matters when you are wearing them all day every day for months at a time.
Not only that, say goodbye to hours and hours of installation time. If you have any experience at all with traditional extensions this is life changing. This will be the most pain free, hassle free, time saving install you have ever done. Installs as fast as 30 minutes and many times no longer than an hour. Tape Ins have changed the game with super easy removals too. Traditional extensions were often glued in with hundreds of rock hard individual strands. You can imagine the process for taking them out was just as crazy or worse than putting them in. Unlike traditional glue ins you can actually reuse the hair. Placement options are super versatile and your hair can even be worn in a high ponytail all while looking incredibly natural. Thin or fine hair? No problem. Single sided tapes give you the option to install less hair than the standard double sided Tape Ins.
So let's see: fast install, crazy comfortable, easy to remove, reusable, pain free, super versatile for all hair types. It's clear why Tape Ins have risen straight to the top of the hair extension world. Did we miss anything?!
Yes! Easy to care for at home too! They are installed typically in 1.5 inch wide wefts throughout your hair. A typical install has about 20ish complete bonds instead of the traditional hundreds. This means less tiny points of contact, better anchoring to your natural hair. What does that all mean. Your far less likely to do any damage to your hair while wearing Tape Ins and makes them far easier to take care of at home.
I personally have thin fine textured hair and they hide well, while still giving me extra volume. I have been wearing them for many years now and couldn't imagine my life without them. With my hair type/texture I really struggle to grow the kind of hair that only extensions can easily and safely give me. I love it, the few times I take them out it is like I lost my disney magical hair. The struggle is very real!
In this video we will demonstrate how this all actually works:
You may also be interested in:
One of the biggest differences from all other professional hair extensions is that installation is fast. Part of the reason is Tape Ins are the only method that no tools are needed to install them. This cuts the time down considerably as there is no threading and crimping of beads with pliers. There is no using a hot tool to melt glue or needle and thread to hand sew in.
Hair styles are always changing so the ease of install and removal allows you quickly change yours style. This was not always so easy to do with traditional methods like sew in or glue ins that can take a full day out of your schedule. Plus methods like sew ins can look bulky as they micro braid tracks in your hair and then sew the weft to the braided tracks. In many cases the installer will double or triple the weft adding bulk on top of the braids. Tape Ins are known to give you a flat sleek look that blends far better with your natural hair as the base of the tape wefts are very thin. Tape In extensions have truly revolutionized the hair market in comparison to traditional methods.
You may also be interested in:
Your excited to create this new and exciting change to your hair with extensions. However adding georgerous, longer thick hair does mean extra care. Extension hair is also different than your natural hair in some ways. Tape Ins are an investment so you are going to want them to last. Better care means longer lasting. They main way they differ from your own hair is they are not connected to your scalp. Your scalp produces oils that lubricate your natural hair and keep it healthy. When extension hair is cut it requires much more care, especially permanent type like these that are worn every single day. We have some care tips you can follow in order to maintain the beautiful quality of your new human hair extensions so that they can be reused. With hair extensions daily care is a must. They need more than just a wash and go. With these care tips and as always hair quality is a factor it is possible to reuse the hair for a year or longer. The biggest factor in longevity is taking care of the hair every day.
Daily care tips for wearing seamless Tape In hair extensions:
Keep your hair extensions untangled by taking time to care for them every day.
When hair extensions are wet avoid brushing them with any type of brush that is not a wet brush.
Do not go to sleep with wet hair extensions. After you dry and brush your hair braid it into a ponytail to avoid tangling while asleep.
Use a wet brush or a hair extensions brush and brush your hair several times a day. Hold the root of your hair when brushing with your hand to avoid tension on the extension bonds. A wide tooth comb can be used to remove tangles if need be.
Do not use any products especially near the bonds that contain alcohol, oil or ethanol as this can damage the bonds on your hair extensions and cause them to fall out. When using products on the hair itself choose high quality ones. However, do not over use them as they can build up over time and cause tangling. When choosing a shampoo and conditioner use sulfate free products.
When you condition your hair, apply the conditioner on your ends up to your mid-shaft only. Avoid getting conditioner near the tabs as it can weaken your tape bonds and cause them to fall out.
When you apply oils or serums use the same caution as conditioning and apply from ends to mid-shaft. Avoid contact with bonds that are near your scalp.Using natural products can keep your hair healthy and shiny. Products such as coconut oil or argan-oil is a good natural option.
It is very important to never use bleach or lightener on hair extensions. When depositing coloring go no more than two shades darker. Always use a test strand first to see how it reacts to the color.
After swimming or working out be sure to wash your hair extensions to remove any chemicals or swear.
High heat from hot tools will shorten the lifespan of your hair extensions. When using them always use a heat protecting spray. Using a lower heat setting is alway recommend for protecting the life of your hair.
When using a flat iron do not apply it onto the tabs. This can weaken the bonds and cause them to slip out.
It is important in order to keep your hair extensions healthy to have them removed and reinstalled every six to ten weeks.
Your natural hair sheds between fifty and one hundred strands each day. Many of these hairs will be in between the bonds of your tape hair. It is normal to see them released when you do a move up and should not be considered as hair loss or damage to your natural hair.
Wash your hair with a clarifying shampoo before your hair appointment for moving up your hair extensions. Your stylist prior to installing your hair extensions will also use a clarifying shampoo. This will allow for a clean reinstallation of your tape bonds so they so that no chemicals or oils will affect the tape bonds.
If you have lost a significant amount of your own hair due to thinning or illness consult with your stylist for another option as Tape in extensions may very likely not be a good fit for your natural hair.
Your hair extensions are an investment in yourself and they are beautiful. Taking care of them is extra care and work on your daily routine but it is worth it to keep them long lasting.
You may also be interested in:
Removing Tape In hair extensions is quick and easy in comparison to traditional methods like fusion. It is best done by an experienced professional hair stylist. It does take extra care and know how in order to avoid damaging your own natural hair.
Removals, installations, and move-ups are best performed by a licensed experienced extension specialist.
How often should I remove and reinstall my them?
Your hair extensions should be removed and reinstalled every six to ten weeks. Consult with your hairstylist and pre book your appointment in advance if possible. While it is easier than traditional methods it does still take time to complete the whole process.
To complete the whole process can take anywhere from two and a half to three hours. If time is an issue consider splitting it up into two appoints. First removal and then reinstallation. This can be a nice break for your natural hair as well.
What ever you decide it is important that the Tape-In reinstallation is thorough. Any skipped steps can result in slippage. A good experienced stylist will not take shortcuts and will often use an assistant to help along the whole process.
What type of Tape-In remover should be used?
It is best to use a professionally designed oil based Tape-In extensions remover such as extension release. Your stylist will start by applying a good amount on each tape-in bond. As the product works its way into the bond it will disintegrate the adhesive that holds the tape in place. Once the bond has loosened your stylist may use a rat tail comb to separate the tabs. If they don't easily separate they will apply a bit more remover between the bond. Once the tapes are moved they will go back through your hair and remove any left behind tape residue. They may use additional remover solution to help comb it out.
How to wash your hair and the hair extensions properly for reinstallation?
This step is very important in order to avoid slippage. Your natural hair and the extension hair must be washed with a clarifying shampoo before reinstallation.
Washing Your Hair
Your stylist will wash your hair with a clarifying shampoo once. Any residue still found in your hair they may apply something such as baking soda where the tabs were to help break down the adhesive and wash a second time.
They may also condition your hair from the mid shaft down avoiding your roots to help your hair be more manageable in the re-installation process.
Washing the Extension Hair
Your stylist will wash the extension hair with a clarifying shampoo. They may also mix a product such as baking soda as well to remove adhesive residue. 
Replacing the Tape
While avoiding the touch of finger oils or other products a stylist will peel replacement tape off a plastic card touching the edge at most. They will then apply the tape firmly to the top of each tab.
Re-installation
Finally a stylist will reinstall each tape bond into your natural hair.
You may also be interested in:
This question can often be answered by your budget and lifestyle. Keep reading to learn more about the best brand and hair types available. Most professional salon quality hair extensions are made with some type of Asian or Indian hair. This type of hair is the most widely available as 84% of the world population has natural black hair color.
The rarest hair in the world comes from Russia! Russia is the only reliable source of REAL Blonde, REAL Brown and high quality black hair.Russian hair texture blends the best with most women's hair too!

Only the very best brands in the world source this type of hair.
Russian hair washes and wears better and way longer than other hair too! This is because you do not have to change the color. We all know what bleach does to hair right! Russian hair does come with a higher price tag because it is so rare and lasts longer but it is so, so worth it! Come see the difference, touch the hair for you self!
Visit one of our two convenient Las Vegas hair stores.
We also stock your traditional salon quality hair made from Indian hair so you can compare. We have many experts on staff that can install it for you as well. If you have your own stylist you can take it to them!
Not in Las Vegas? Shop our online hair store.
Say goodbye to the days of fighting with your extension hair! Dousing dry extension hair in oil and replacing it every couple months!
Give your hair the best hair extension experience ever with Hottie Extensions!
No need to wait for shipping for our local Las Vegas hotties. With 25+ colors and blends in stock we have the perfect match for you. Tape In! Hottie Hair brand comes in three product lines or hair qualities from awesome to the best in the world. All three made of premium beautiful remy hair. See below for more info.

The best experience with your hair extensions comes from using the highest quality of hair. That is why we are introducing our gentle processed hair extensions. 99.9% of hair extensions started out as black hair. 84% of the world population has black hair, so this color is the most readily available. How the hair is processed to change its color is vitally important. Only the gentlest of processing will protect the hair for longer use.
Many will say their hair is remy but they will coat it in silicone so it feels soft to the touch. It's not until after you start to wash the hair and this silicone begins to wash off that you are left with the actual real non remy damaged hair. We know that you and your hair deserves the best so let's get you the hair that you have always dreamed of! Actual REAL remy hair that is made from the finest quality 100% REAL human hair.
Our Tape in hair extensions are very thin small wefts that lay flat to your head and are extremely comfortable. Perfect for all types of hair lengths and thicknesses. The tape is made of a medical grade adhesive that is designed to bond to your hair without damaging it. You can curl, heat, straighten or wash them just like your own hair. Let's find your perfect color today!
Here Are The Top Brands of Tape Hair Extensions
Day Dream by Hottie Hair: Made With Traditional Salon Quality Indian Hair

18" IN STOCK
Traditional salon quality hair, budget friendly and still a great option for Tape In extensions! Lighter colors go through a 5-7 day pigment removing process and dark hair from 3-5 days. Our Indian Remy hair will last anywhere from 3-6 months!

Remi Chic Hottie Hair: Made With Rare High Quality Russian Hair

20" & 26" IN STOCK
Amazing quality made from real blondes, browns and high quality black color human hair from Russia! Gentle processed that may have the original color adjusted 1 to 2 shades giving it a lifespan of 6 to 9 months with care vs. traditional salon quality Indian hair that will go through up to 12 shade changes from the original color. Remy Chic Tape Ins are also double drawn which means that the hair is thick and full from top to bottom.

Virgin Russian Hottie Hair: Made With Rare High Quality Russian Hair

18" & 20" IN STOCK
The "HOLY GRAIL" of tape ins. The absolute best of the best. This hair comes from Russia. The VERY BEST place to get gorgeous VIRGIN BLONDE, natural BROWNS and MATCHING TEXTURES of black hair. This Russian hair goes unbleached and unprocessed, it remains the BEST QUALITY and can last up to TWO YEARS!! This would be unheard of anywhere else! So what are you waiting for?! Come in get the BEST HAIR IN THE WORLD right here in Las Vegas!
SAME DAY INSTALL AVAILABLE IN LAS VEGAS
You may also be interested in: