Description
Clipo!™ Hottie® Hair is a brand new concept created by Hottie® Hair founder CryStyle. Merging two of the most loved types of temporary hair extensions Clip In & Instant Hair Extensions. Creating a unique 3 piece set that you are sure to ❤.
A full set of Clip In extensions usually comes in seven to eleven plus pieces and can take quite a bit of time to install. However so many pieces can give you excellent coverage around your entire head, giving them tremendous popularity. Considering the amount of time it takes to install Clip Ins the Instant hair extension came about and gave women a quick and easy way to add length and volume in seconds. However a one piece set lacks the face framing pieces that a full head Clip In set offers.
CryStyle saw a need to merge these two wonderful types of extensions to give you the best of both worlds. A quick and easy to install; yet complete coverage hair extension set. Women who love Clip Ins or Instants are sure to ❤ Clipo!™ Hottie® Hair!
Hair Extension Quality
With almost two decades of experience with hair extensions CryStyle has found that real high quality remy human hair is often hard to find. Even if a seller says it is. It is almost always not and can fool many at first. It is often hard to know without washing the hair many times only to find it becomes a tangly mess. A big reason is real remy hair is much more expensive and most commonly sold in high end permanent hair extensions that are washed often. With this in mind CryStyle wants you to be able to wash this hair worry free and has designed them with this higher quality real remy hair. Another big reason to ❤ your new Clipo!™ Hottie® Hair!
Clipo! Hottie Hair…in 60 seconds or less!
Your main hair piece is shaped in a circle and has an adjustable wire for easy fitting. It also comes with a full set of five clips attached so that you can use it without the wire or a combination of both! The two side pieces are optional and are quick and easy to pop in to provide framing around your face to give you full head coverage! Clip the entire set in or just wear it as an instant or combination of both, whatever your preference the option is now yours.
Quantity of Hair
The main circle shaped piece comes with a full 100 grams of hair giving you the ability to wear it alone. The two side pieces are each 10 grams of hair, perfect for framing your face. Giving you a total 120 grams of the highest quality real remy hair!
How Clipo! Hottie Hair WORKS
Clipo! Hottie Hair works with most hairstyles!
Option One:
Simply place the main piece of Clipo! Hottie Hair on your head, sitting firmly and comfortably on your crown.
Pull your own hair over the miracle wire and brush The Clipo! Hottie Hair through to blend in with your own hair!
Option Two:
Remove the wire and pull you hair up and clip the piece in around the back of your head.
Option Three:
Do a combination of both for an extra secure fit!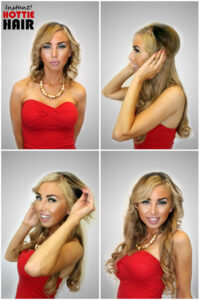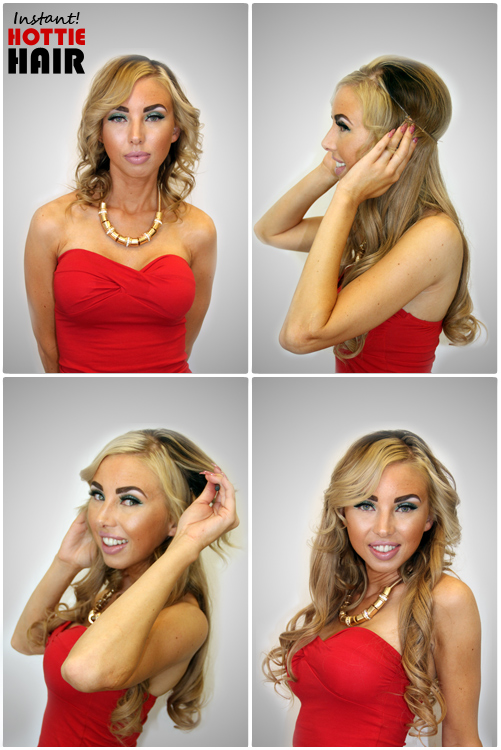 Longer, Thicker Hair, It's so EASY!
​
How to adjust Clipo! Hottie Hair wire?
The wire words similar to an adjustable bra strap. Simply find the slot that fits your head size the best.
How long will my Instant! Hottie Hair last?
Your hair piece can truly last over one year. However a lot depends on how well they are treated, cared for and stored when not used. The golden rule is to treat your Clipo! Hottie Hair with the same love and respect you should your own hair!
Can I straighten or curl my Instant! Hottie Hair?
Absolutely! In fact you can treat them just like you would your own hair! Just remember, like your own hair, human hair extensions are not indestructible. So treat them with care and respect! Using a heat protector spray will help too!