As new extensions and wigs keep flooding the market with each passing day, you may find it confusing to know the best and most suitable options for you in the market and how and where you can purchase them. From Ariana Grande's length extensions to simple weaves or even the gorgeous colors that the Kardashians rock, there's a single, common factor in all of them – They make you look absolutely stunning and beautiful! That being said, we've got a new, trendy product here, which we're sure you awesome gals will appreciate. We promise you – you've never seen anything like this before! Here are the complete deets about our latest obsession and product, and a helpful guide about where and how you can purchase them!
HALO HAIR EXTENSIONS
Let's get this clear from the start – Halo hair extensions are simply dazzling. You won't find any other hair extension in the market today that matches up to their natural appearance, style, length, and overall quality. You can spend all day on your computer or phone browsing extensions, which cost hundreds or even thousands, and spend an inordinate amount of time and money getting your extensions 'professionally done'. Even then, you're unlikely to match up to these puppies. Why?
//www.instagram.com/embed.js
Halo hair extensions are unique, which is why we consider them to be a cut above the rest. We, at Hottie Hair have mastered the art of hair extensions, especially the 16" and 20" Invisible Extension. Thanks to these stunning extensions, it is now possible to have ready-to-go awesome model hair, which both feels and looks natural and expensive. They also offer great length, volume, and enhance your overall beauty. Made using remy human hair, these extensions are heat-friendly and can be added and styled in many ways that gives you a unique look, setting you apart from the crowd.

Not just that, these hair extensions are incredibly easy to add and apply as well! If you're looking for hair extensions with heat-friendly features and gorgeous design, these Halo Extensions are exactly what you need. No more pesky clip ins or painful tape extensions – You can use this just the way you would a headband. These extensions don't need much effort to blend in either, thus making it a flawless and effortless model application. Additionally, they are made using authentic human hair too!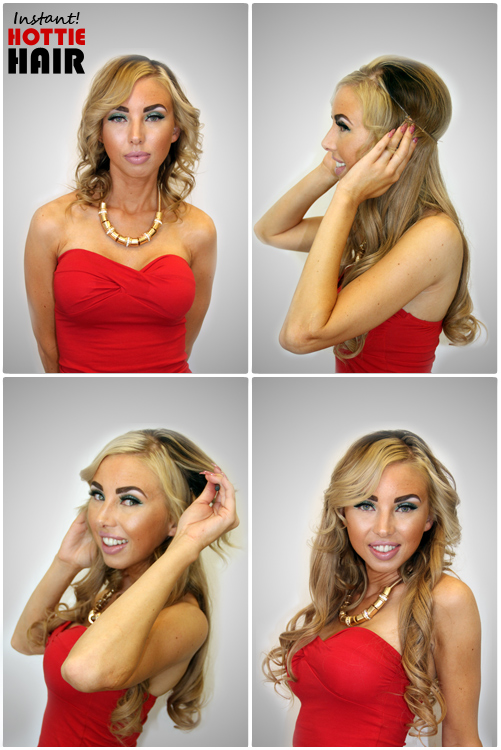 Therefore, if you're tired of spending time on prepping your hair every time you head outside to the office or school, these Halo hair extensions are exactly what you need. Don't take our word for it – Try them out yourself and there will be no going back, we promise you! If you'd like to learn more, you can shop them over here. Ladies, your wait for the perfect hair extension is finally over!
Categories: HAIR EXTENSIONS 101, HALO HAIR EXTENSIONS 101